The next morning, we woke up early,
had our included breakfast at the hotel and were
back on the bus for the final hours of our
tour of Paris. We drove around and saw some
like the obelisk, a few churches as well as the opera house.
in Montmarte, which used to be
one of the red light districts of Paris, and the area is very
It had a great park that went down
the middle of the street and beautiful greenery
and really made me reminisce
Finland - but there was just one catch with this street.
There were sex shops all along which
took me by surprise. Actually, this street
is the home of the famous Moulin Rouge - which of all
the beautiful and grand things in Paris,
this landmark was surprisingly commonplace. I guess
it is the shows on the inside that count.
We were dropped off at Montmarte and saw
the pristine white Sacré-Cœur up the hill.
However, we had another agenda.
We all wanted to go back to the Champs-Élysées
and check out the shops some more.
we headed down into the metro and a few stops later
we were back at the epicenter of Parisian consumerism.
We checked out some stores -
not everything was open as it was early on Sunday,
but some places were - like the largest
Sephora I have ever seen where we all sniffed
our way to headaches amongst thousands
of bottles of perfume. We checked out other
shops too like the huge Paris Nike store
and walked past many cafe's with people enjoying
Sunday coffees.
And then, across the street, I saw it -Ladurée
Now if you know me, you may know that
one of my favorite directors is Sophia Coppola
who directed Lost in Translation as
well as Marie Antoinette, two of my favorite films.
Well, the film Marie Antoinette is
essentially a collage of the extravagant life of the
infamous French Queen and artistically
rendered by Coppola with lavish costumes
and scenery. All of the pastries in the
movie were created by the French patisserie Ladurée.
So, I have always said to myself that
if I ever get to Paris I will need to find one
and eat a pastry from there just like the ones in the movie.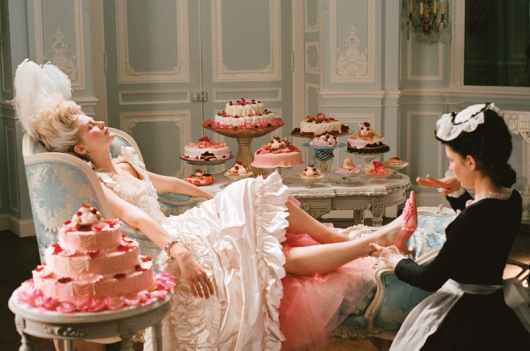 So you could guess how ecstatic I was
when I saw the famed Champs Élysée Ladurée
across the street! The windows were
lined with colorful pastel cakes with puffs of
whipped cream, and all seemed too artistic to eat.
If the pastries seemed over the
top, than the inside of the patisserie took
it to the next level. The inside cafe and
counters were so ornate that it was almost gaudy
and decorated like a cake for royalty
itself with green marbles, chandeliers and
gold leafing everywhere. The cue line was long,
but I was definitely waiting ( in fact,
the others continued to shop as I waited well
over 15 minutes in line taking in the scenery).
Now I had very little expectations before
traveling to Paris. In fact I just had two goals
- Find a Ladurée and buy a Marie-Antoinette-esque pastry,
and also find a Japanese tourist,
not hard in Paris, and just chat with them.
The standings:
Indulging in a Ladurée pastry: Check
Talk to a Japanese tourist: Fail
It was only because I was too shy, however.
In fact, a few people in front of me
in the cue line were Japanese - it caught my
attention when they flagged over the
Asian counter attendant and started asking
her questions - one of the clerks with fancy
white gloves was Japanese too! I told myself
that if she was the one that would help
me in line, I would speak Japanese since
I really didn't want to have to speak English.
Well I wasn't lucky there. I was assisted in French,
and then had to shamefully
request "Pardon, Parlez vous Anglais?"
which I think is essentially a signal to make
a Parisian lift ones nose to you...
but its what I had to do. I was staring down at
all the delicious macarons -
brightly colored almond meringue cookies with
flavored fillings and ordered a selection of them
- 6 for €7.60 . - almost $10
... I really wanted them!
After leaving the shop - and failing out of
nervousness to just randomly go up to the
Japanese customers and start random chat about pastries...
- I crossed the street
with my little bag of expensive, and gloriously
delicious Parisian deserts.
I shared them with the rest of the group,
and they were definitely worth every Euro cent.
In my Les Mini Macarons Prix au 100 grm I had
Fleur d'oranger

Caramel à la Fleur de sel

Pistache

Vanille

Chocolat amer

Fruits rouges
After our excursion to the Champs Élysée
and me being very content with my successful
find and purchase we made it back to the bus,
and our trip to Paris drew to a close.
We drove down a few more streets,
saw some more corners of the city,
but already so soon it was back to Saarbrücken for us.
It was an excellent trip and I was
definitely so happy that I was able to spend it
with my host sisters and their boyfriends
who are all so great to be around.
It was trip that will be one of the
highlights from this year for sure.