[ Another English class ]
This week a friend of mine, Kelly, from the CDC mentioned that she was going to visit the English course of her host brother during our lunch period and asked if anyone had wanted to visit as well. I definitely jumped in on the opportunity, and on Wednesday I was very excited to get yet again another, and different, perspective of school here in Saarland. Kelly's host family is very nice, and I have visited them a couple of times and even been on an outing to the local swimming pool with them. Kelly's host mom is actually French, and their family is a mix of German and French in the house. Kelly's 17 year old host brother, Fabrice, is learning English as his third language.
The school we were attending to visit Fabrice was actually a special high school since it was a German-French speaking school since here in Saarbrücken we are on the border of those language communities. The school is right in the middle of the downtown area and we were able to reach it by the train cutting through Saarbrücken.
Just like Klara's school, I had the same impression when entering. It had a very open door policy with people entering in and out, and some students were spending their pause in the courtyard outside the school. Once inside, it does not give a first impression of being a very welcoming environment – essentially just tile and cement stairs, some posting walls, empty classrooms and some desks and small chalkboards.
Once you meet the students however, some life finally comes to the school. This was my first time attending a class with students near my age – they were around 17 and the equivalents of seniors in high school. The English teacher was a riot. She had a very spunky personality, and acted and talked just like Edna, the little fashionable seamstress from Disney's The Incredibles. Apparently the students had a report to do over the two month summer break and she was reminding it that she wanted presentation outlines on Friday.
Of course you have been working on them the entire summer. Don't be a pain in my ass and ask for an extension.
I found her spunkiness very funny, but at the same time some things didn't sound too different from students in my high school.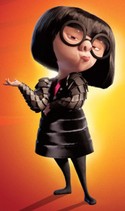 [resemblance?]
[ Fabrice, the English teacher and myself ]
Other than addressing the German equivalent of Senioritis in the class, the students were great. They were very excited that Kelly and I were there visiting, and we actually opened up to very good discussions about schools in America, and why we are in Germany now – which brought up very different perspectives because Kelly is here as an aspiring Chef, and I am here studying public policy.
What was really neat was that some of the students had been to America before – one girl lived in Texas for a year – and the students were very interested in discussing the little quirks between our cultures – like the huge gallons of milk in the US, yet Germany has cartons of actual milk that doesn't need refrigeration before opening! A few of the students in the class were preparing for a trip to America next month, where they will tour Washington DC for a week and then be visitors with host families in Pennsylvania and attend a high school. I was very excited for them, since I really like Washington DC, but it was a bit awkward to say "There is so much history" when that really only dates back a few hundred years. I also told them to try and experience Homecoming and Halloween if there are events when they are at their high school in the States.
We talked a little bit about France and Germany, since all of the students have backgrounds in both languages and discussed how the education is different for the languages. I was interested to learn that in France, English grammar is generally taught in French from what I was told. This attitude could contribute to the fact that French people may be able to perfectly read English, but they generally don't have any desire to speak colloquial English. Nonetheless, I was very impressed that the students were very well advanced in their third language, and that the English class was taught entirely in English – even the slang from the teacher.
After class many of the students came up to me and chatted sharing what they were excited to learn about America. We exchanged numbers, facebook pages, e-mails, and hopefully they contact me to get together like they wanted to. I think that it was a great opportunity to once again observe at least one class in a German school, and in the end possibly make some new friends I can meet sometime during the next few weeks here in Saarbrücken